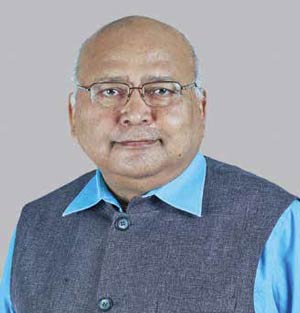 (DIN 06387125)
Mr. Harishchandra Prasad Singh was born in Mahmada, Pusa, Samastipur Bihar, India on 2 July 1950 in a farming family. Mahmada is a place, where Imperial Agricultural Research Institute was established in 1905, now known as Pusa Institute (Indian Agricultural Research Institute), Pusa, New Delhi. With rare combination of scientific excellence, conscientious administration, dynamic management skills and academic depth, Dr. H.P. Singh, in his career spanning 42 years, has outstandingly contributed to research, education and development of horticulture and agriculture.
His vision, commitment and dynamic leadership have provided a new dimension to horticulture.
Visionary approach of Dr. Singh, with zeal and commitment for achieving excellence and exemplary skills of management has brought dynamisms to the positions which ever, wherever, (Deputy Director General (Hort.), ICAR, (2007-2012); Vice-Chancellor, Rau, Pusa, Bihar (2005-2007) Dean, College of Agriculture, Pantnagar, (2004-2005); Horticulture Commissioner, Ministry of Agriculture,(1997-2003); Chairman, Coconut Development Board, Cochin; Director, National Research Centre on Banana, Trichy,(1993-1997); Project Coordinator (Fruits), IIHR, Bangalore), he held. His contribution has lead to optimisation of output, outcome and delivery. He is prime mover for Horticulture Research and Development in India and is an Architect of golden revolution.
He believes that even best can be improved. Currently, he is the founder and chairman, Confederation of Horticulture Associations of India(CHAI), committed for accelerating the economic growth through technological interventions, human resource development and providing innovative solutions to emerging challenges.